Welcome to Our Site
Ethos of Dunfermline Waterpolo Club
To provide support in which all club members have the opportunity to work hard to achieve their personal best.
To encourage individual and team development within a strong supportive sporting framework
To create and sustain an environment where everyone is equally valued.
Presentation to EATs Rosyth Charity
Prior to last nights ladies friendly game at Carnegie Leisure Centre, all squads came together as our Club President welcomed Karen Dorrat from EATS Rosyth Community Hub to our session.
We were very pleased to present a cheque to this worthwhile local charity for monies raised by club members during our Christmas bag pack at Marks and Spencer .
Well done to all our members who gave up their time to bag pack and many thanks to M&S customers and staff for their support.
2020 Scottish Championships Draw Announced
The draw for the 2020 Scottish Waterpolo Championships has been made.
DWPC has entered all 6 competitions:
2005 Girls Semi final - Forth Valley v DWPC
2005 Boys Semi Final – Forth Valley v DWPC
2002 Girls – Bye to Final
2002 Boys Semi final – Stirling v DWPC
Women Qtr Final – DWPC v Warrender
Men semi Final – REN96 v DWPC
The Late Brian Campbell named on Honorary Prize
The Be Water My Friend (BWMF) association based in Spain has announced it wants to pay a tribute to the late Brian Campbell with a honorary prize in his name. Many of our players enjoyed trips with Brian to compete in the BWMF tournaments in Lloret Del Mar.
Their recent statement: The BWMF association wants to pay tribute to Brian Campbell, a Scottish coach who was present during the last 6 editions and who left us a few days ago. For this reason we want to establish from this edition, an honorary prize to those who represent the values and the BWMF spirit.
Giving the BRIAN CAMPBELL PRIZE, CRISTOBAL CARRASCO, member BWMF.
Receiving the award, DANI GOMEZ, for his constant collaboration and representing the BWMF philosophy.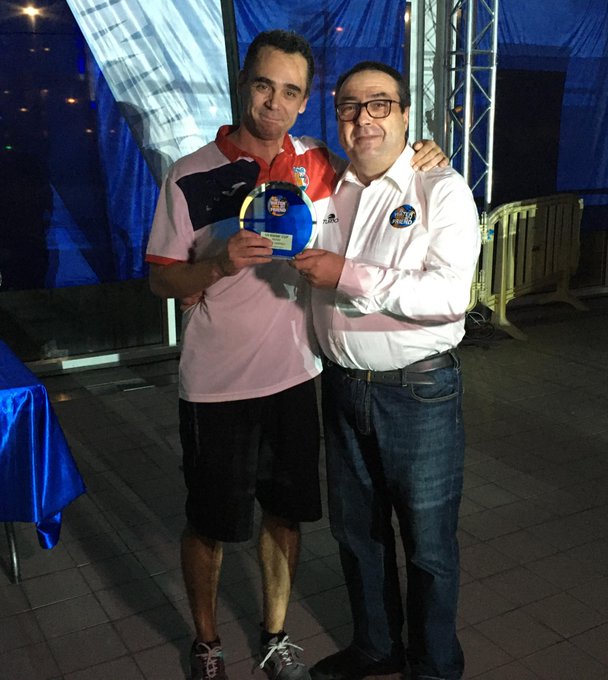 New fees come into effect on 1 Jan 2020
A reminder the new fees approved at the 2019 AGM come into effect on 1 Jan 2020. The treasurer has reviewed the fees and emailed out to all those members affected.
This year the Development squad fee has been brought into line with Junior/Senior fees to include a monthly contribution for the SWP Scottish League player fee rather than collect the £35 when called for.
Session fees wef 01 Jan 2020

Monthly Training fees:(payable by standing order)

Junior/Senior
£39 (Already included SWP Player)

Development Squad
£29 (Now includes SWP Player fee)
Minipolo
£24